Krunkies (KR) are the in-game currency for Krunker.io, and were introduced in update 0.9.99992.
How to Earn
You can legitimately earn Krunkies through several methods.
WARNING: Any 3rd party website/server/person claiming they can "generate" free KR for you are all scams. Please limit yourself to only following the methods listed below on earning KR.
Playing the Game
When playing on public servers, players can gain 1 KR for every 100 points you score (up to 30 KR per round) and people who have Krunker Premium get up to 40 KR per round.
Update v1.1.5 introduced Challenge Mode, which increases all of the KR rewards after a game round by 1.5%, and likewise raises KR limit per round to 45. However, this comes at the cost of a halved maximum health as well as being unable to regenerate health.
Buying Premium increases the cap on KR earned per round to 40 KR. Note: Premium costs 7000 KR to own for 30 days, or 19000 KR for 90 days.
Mapmakers can deposit KR into their custom maps, which can be rewarded to players in different ways. For example, a 100 KR prize for completing a parkour section. The mapmaker must provide and replenish the KR themselves, to prevent any abuse.
Free KR Button
Accounts over level 5 can claim Free KR every hour. The requirement is to simply play a game (to prevent bots), click a popup confirming free KR, watch a video advertisement, and receive one Free KR spin.
Buying KR
After update v0.9.99999, you can purchase KR with real money. As of update 2.4.0, these are the prices: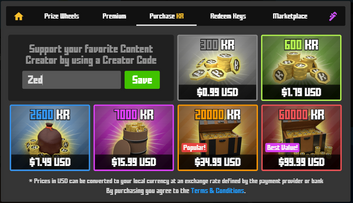 Gifting KR

Added in v1.8.5, you can Gift KR to other people, although this is restricted to users above Level 30 to prevent abuse of this feature.
Click the "Gift KR" button, and choose the desired amount of KR you wish to gift. There is a 10% fee for gifting KR. For example, if you wanted gift 100 KR, you would have to pay a 10kr fee. The fee will be deducted from your account, in addition to the gifted amount.
KR Codes/Vouchers
Large amounts of KR can be claimed with one-time use codes. KR codes, also known as vouchers, can only be generated by the Krunker development team.
Ways to get KR codes are to watch official Krunker streams, like tournaments, receive one from a Krunker-sponsored streamer, and privately from the developers. Begging for KR codes will not work and is not recommended.
Selling skins on the Marketplace
See marketplace for more information.
A 10% listing fee is also added reduce the amount of overpriced items being sold on the market.
Challenges
See the challenges for more information.
KR is awarded to the player for each challenge level completed.
Clan Wars
See clan wars for more information.
Each region has a reward of a large sum of KR for the top clan in that region.
Custom Maps
Mapmakers can place triggers in their map that allow the player to pay KR to receive something in the map. The mapmaker can collect the KR. In addition, triggers can also be placed that reward the player with KR.
Bringing new players to Krunker
In update 3.1.3, a new feature was added where players with an account level 20 or above can earn KR by bring new people to Krunker. It is the introduction of the partner program, where you can sign up in the partner dashboard, with your PayPal email, and a code of your choice. You will receive a referral link as you will be partnered level 1.
Note: Opening your dashboard in front of others such as in a YouTube video or a twitch stream can get your partnership status revoked.
Where to Use
As of update v2.9.9, you can use KR in the store, marketplace, buying billboards, buying premium, trading, gifting, or deploying soldiers for clan wars.
PLEASE NOTE THAT BEGGING FOR KRUNKIES IN THE COMMENTS TO THIS PAGE OR ANYWHERE WILL NOT GET YOU ANY KR SO PLEASE REFRAIN FROM DOING THIS SINCE IT HURTS YOUR OWN REPUTATION AND RESPECT. THERE ARE A PLETHORA OF WAYS TO EARN KR BY YOURSELF, SO TRYING THEM WOULD BE MUCH SMARTER THAN BEGGING FOR THEM, PLUS, THEY CAN ALSO BE BOUGHT FOR REAL MONEY AS MENTIONED ABOVE.